We are lucky to live in an era in which aesthetic medicine can help us to improve all those beauty concerns that would otherwise take us years of work and probably never disappear completely.
When it comes to weight loss and cellulite, they can certainly make our life way easier.
On the way from surgery to slimming body lotions, you will find a wide range of possibilities that can help you control your weight and get the desired body fast, effectively, and with no pain involved.
AESTHETIC SOLUTIONS FOR WEIGHT LOSS
Liposuction and body contouring or body sculpting.
Injectable solutions that are released in the dermis to promote fat burning, lipolysis, and prevent water retention.
They also promote the breakdown of fat and prevent water retention but instead of being injected, they are administered by transdermal delivery systems.
They help to promote fat burning and lipolysis. They are a good help during a detox diet, but we recommend only using them under the prescription or advice of your skin expert or doctor.
Body lotions that you apply at home while massaging to help firm the skin and reduce fat deposits in specific areas.
Right in the middle of this list we find transdermal delivery solutions. It seems a bit unfair that they are not among the most popular methods while they could be the best option for many, as they are minimally invasive and highly effective. Let's learn a bit more about them in the following lines.
TRANSDERMAL DELIVERY SYSTEM
Transdermal delivery solutions are formulated to overcome the resistance of the upper layers of the skin without damaging them to get deeper than topical solutions and ideally reach the dermis. To help them be more effective, they can be applied using derma-roller/ micro-needling, sonophoresis, or iontophoresis. All these techniques are soft if compared to any other invasive methods, and they provide amazing results. 
It is a non-invasive device that uses ultrasounds to improve the penetration of active ingredients through the skin.
In the frame of aesthetic medicine, it involves low-amplitude electrical current to improve the absorption of active ingredients through the skin.
Or micro-needling is a rolling device with tiny (from 0.2 to 2.5 mm, depending on the concern to treat, the body area, etc.) needles that cause micro and controlled wounds on the upper layers of the epidermis to let the active ingredients in a formula go through the skin barrier without damaging it and reach the desired skin level.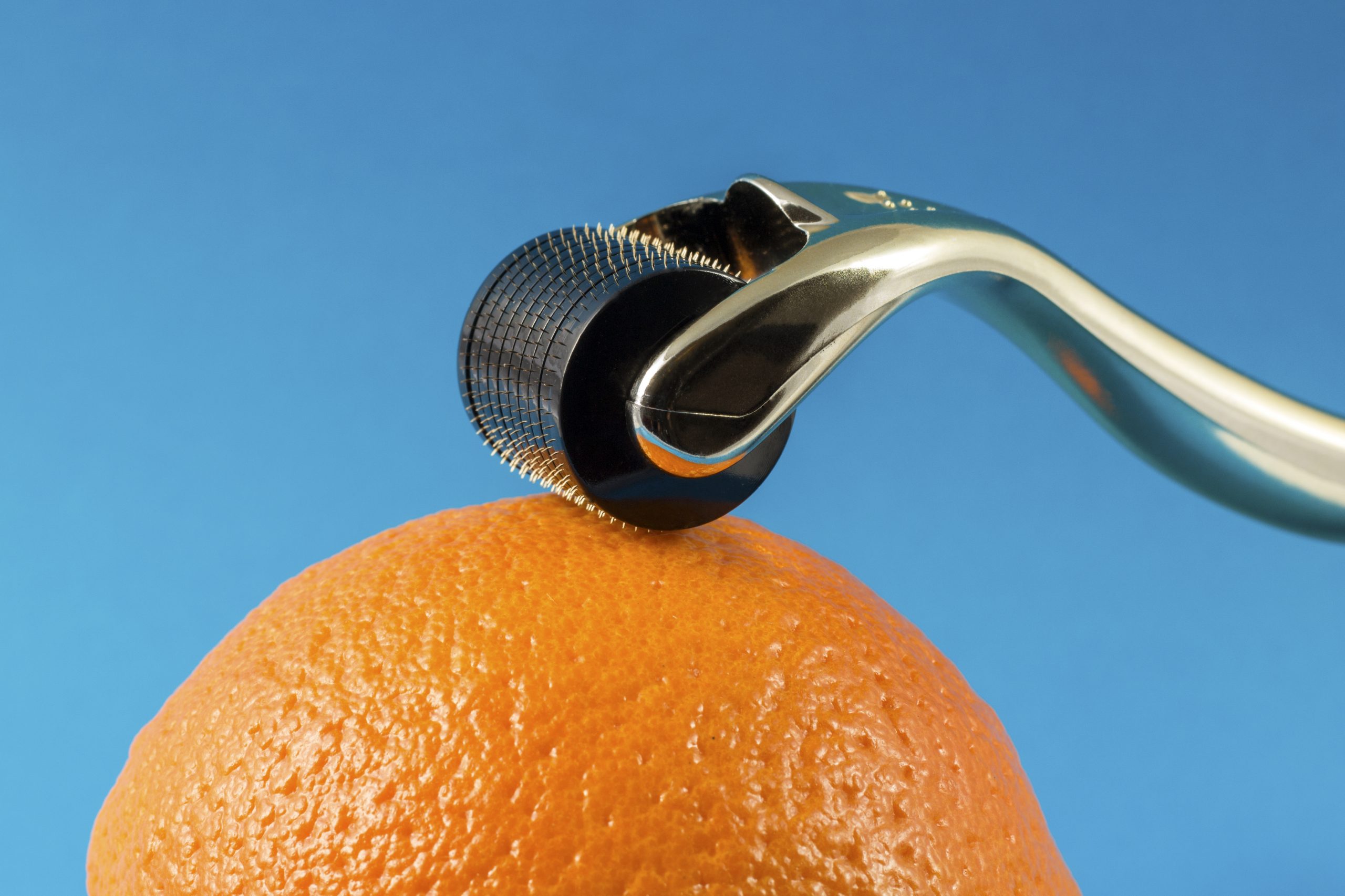 TRANSDERMAL DELIVERY SOLUTIONS FOR WEIGHT LOSS
Ingredients: Carnitine, Caffeine, Silicium, CoQ10, Lysine, Vit. B5
Its active ingredients work in synergy to induce lipolysis and transform free fatty acids into energy, thereby reducing fat deposits. Furthermore, they produce an action that reshapes the constituents of the adipose connective tissue and thus contribute to reduce the appearance of bumps and dimples caused by cellulite and restore an even and smooth skin surface.
Ingredients: Cynara scolymus, Centella asiatica, Melilotus officinalis, Hesperidin, Rutin.
Potent formula with draining effects that promotes the elimination of retained fluids and toxins. Therefore, this product is very effective to reduce cellulite and help reshape the body contour.
Furthermore, its detoxing properties help to improve the skin microenvirorment and restore the optimal balance that will prevent the recurrence of retained fluids and toxins in the future.
Active ingredients: Phosphatidylcholine.
Powerful fat dissolving lipolytic effects that effectively shrink the fat tissues and reduce localized fat. It helps to reshape the fat tissue by reducing, regrouping, and rearranging the tissues.
Active Ingredients: DMAE, Silicium, Thioctic Acid, Acetyl Cysteine.
This formula restores skin elasticity and firmness, highly improving the appearance of saggy skin. Its ingredients activate the mechanisms that re-establish the connective tissue by restoring elastin and collagen levels, also maintaining the optimal activity of proteoglycans that strengthen and preserve skin proteins. These effects not only tighten and tone up the skin but also prevent the reappearance of loose skin.