THE PURSUIT OF MODEL-LIKE FACE FEATURES
In today's era of selfies and video chats, having a model-like face is becoming the ultimate goal for many of us. We all know how the coveted features of high cheekbones, sharp jawline, and plump lips can make a face so much more attractive, but is it worth the price of going through surgery? Luckily, we live in a time where aesthetic medicine and the beauty industry offer countless options to help you feel more beautiful in your own skin. Among them, non-surgical face contouring treatments are becoming one of the most in-demand procedures, and no wonder why. They can redefine your facial structure and enhance your features quite remarkably without the need of going under the scalpel.
Here, we will reveal what we consider to be the most effective in-office non-surgical face contouring treatments that you can receive in a clinic to help you achieve the chiseled face of your dreams.
DERMAL FILLERS
As you may already know, dermal fillers are not only used to fill wrinkles but also to add some volume here and there. They are widely used for non-surgical facial contouring around the globe, offering outstanding results. In this sense, they can add volumes in specific areas to sharpen the cheekbones, the chin, or the jaw.
Although there are several types of fillers in the market, we highly recommend using the ones made of Hyaluronic Acid, which is a naturally occurring ingredient in the skin. Therefore, this type of filler is neither toxic nor irritating at all and poses a very low risk of adverse effects. HA fillers usually last from 2 to 6 months, depending on the filler and the skin characteristics. They are naturally reabsorbed by your skin, and they are 100% reversible in the event you are not satisfied with the results.
 MESOTHERAPY OR MICRONEEDLING
Some transdermal solutions can also be used to reshape and enhance facial contours. They are made of combinations of vitamins and active ingredients that can produce certain effects on your skin to make it healthier and more attractive.
In the sense of facial contouring,INNO-TDS® FACE NADE has been specifically designed for it. This solution can be administrated by micro-needling or ultrasound to promote fat loss in certain facial areas, like the double chin or jowls. Moreover, this formula improves skin texture and helps to lift saggy skin.
For those who search for more noticeable effects, a treatment plan alternating sessions with INNO-TDS® FACE NADE and INNO-TDS® FIRMING is showing outstanding results. While the first solution mostly works on the face fat pads, the second one firms up saggy skin. The results are brilliant. Patients achieve those chiseled features within a few sessions.
The procedure is fast and painless and does not need recovery time.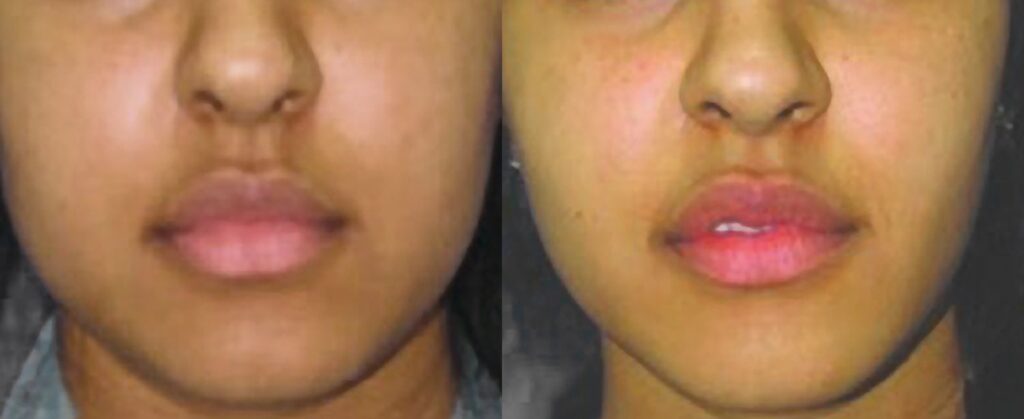 BOTOX
Although Botulinum toxin is usually used to reduce lines and wrinkles, its paralyzing effects are also used in aesthetic medicine to narrow the jaw. How? In these cases, Botox is injected into the masseter muscle under the cheekbones. It will weaken and slim the muscle, narrowing the lower part of the face which also makes the cheeks look more prominent. As in all Botox procedures, the results last a few months, but it is believed that by performing this technique recurrently, the masseter muscle will eventually atrophy, and the jaw remain narrower.
This procedure is also painless and adverse effects are rare. The only downside is that it can feel a little weird the first couple of days if you are not used to the effects of Botox.
The Bottom Line
Non-surgical face contouring treatments are increasingly in demand for those seeking to enhance their facial features without going under the knife. As the market continues to develop more effective products, it is important to consult with a qualified aesthetic doctor to determine which treatment is best suited for your unique facial structure, skin quality, and desired outcome. With the right approach, achieving that chiseled, model-like, face is completely achievable.