As the aesthetic community continues to explore comprehensive solutions for facial aging, it has become evident that the skin aging process extends beyond the formation of wrinkles and fine lines. In recent years, there has been increasing recognition of the role played by facial fat pads in the aging process, making their treatment a key factor in achieving successful rejuvenation.
UNDERSTANDING THE ROLE OF FACIAL FAT PADS IN SKIN AGING
With age, the gradual loss of collagen weakens the ligaments that support the facial fat pads, causing them to descend over time. This is a natural process and one of the most notable signs of aging.
After years of dedicated research on facial fat pads, Dr Gladys Velazco has pioneered a non-surgical method to stimulate and lift these fat pads, eliminating the need of invasive procedures.
INTRODUCING FACIAL ADIOPOSTRUCTURING
Facial adipostructuring is an innovative rejuvenating technique developed by Venezuelan Doctor and Professor Gladys Velazco. This cutting-edge approach aims to restore the facial fat pads to their original position, effectively counteracting the signs of aging.
THE PROCEDURE
Facial adipostructuring is a safe and efficient procedure that can be completed in under an hour.   
The first step involves a comprehensive analysis of the patient's facial structure to identify the precise location of the facial pads. Following this, the professional marks the areas to be treated, targeting the specific regions affected by the descent of the fat pads.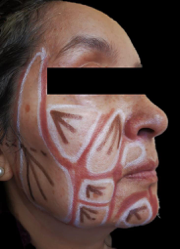 Next, a transdermal solution is carefully applied on strategic areas to restore the ligaments supporting the fat pads. More than one solutioncan be used, depending on the patient's needs. These solutions contain specific active ingredients that nourish and revitalize the tissues, thereby strengthening the ligaments and achieving the desired lifting effect. In some cases, the professional may also stimulate adipocyte (fat cells) metabolism in specific areas, facilitating a reduction in the weight of targeted fat pads. This, in turn, enables the skin's ligaments to effectively hold and elevate them.
KEY BENEFITS
The skin's ligaments, known as retinacula cutis, consist of numerous small fibrous bands that extend from the deep dermis to the deep fascia.
The technique focuses on restoring the natural positioning of facial fat pads, enhancing overall facial appearance in a subtle and authentic manner.
The active ingredients administrated in this procedure improve cell-to-cell communication, resulting in enhanced skin texture and overall skin quality, promoting a smoother and more youthful appearance.
Facial adipostructuring offers a non-invasive alternative to traditional facelift procedures, eliminating the need for incisions, general anesthesia, and lengthy recovery times.
Facial adipostructuring allows you to achieve significant rejuvenation with minimal disruption to your daily routine. The procedure is harmless, causing none or minimal discomfort with no risk of complications.
BEFORE AND AFTER TRANSFORMATIONS
Before pictures talk by themselves, here you have before & after pictures of a patients after three sessions of Facial Adipostructuring.