Like every year in this season, we are here to remind you how paramount it is to protect your skin from sun damage and use sunscreen all year round, especially in summer when UV rays are stronger.
We cannot emphasize enough how damaging sun exposure is for your skin and how much it accelerates skin aging. Several studies have reported that 90% of the signs of aging are due to sun exposure. So do not forget to have your broad-spectrum sunscreen at hand and enjoy the summer in a safe way.
MOST PHOTOAGING COMES FROM THE SHORT WALKS WE TAKE EVERYDAY
We are very aware of the dangers of spending hours like a lizard in the sun. It is a personal choice to decide whether you prefer to sunbathe today and deal with your wrinkles tomorrow or be cautious with sun exposure. What many people do not know is that skin photoaging is usually triggered by short but repetitive sun exposure when walking to their homes or looking after their children in the park.
Our skin expert and aesthetic doctor Victor García warns: "Sun exposure in your daily routines can be as bad as on the beach. Of course, you must protect your skin more on a day out because you can be exposed for a long time, but it does not mean that you can neglect the other scenarios. My advice is to use sunscreen every day and avoid the sun during its strongest hours." 
YOU CAN SUNBURN ON A PLANE
And you can sunburn bad! The UV index increases with altitude – becoming 10% higher every 1000 feet.
Plane windows are designed to block UVB but not UVA, so you can still burn and seriously damage your skin if you are sitting by the window. Next time you fly, we recommend you bring a broad-spectrum sunscreen or pull down the shade of your window if the sun is bothering you.
Besides window planes, you should also be careful in the car, bus, or even at home by the window. Most windows can filter UV radiation only partially.
SAND REFLECTS MORE UV RADIATION THAN MOST SURFACES
Another important fact about UV radiation is how it reflects off most surfaces, and how these surfaces can make increase the UV damaging effects on your skin.
While water, grass, and soil reflect less than 10% of radiation, sand reflects 15%, and seafoam 25%. Nevertheless, be aware that some UV rays pass through the water surface to a point, so try to use a water-resistant sunscreen if you plan to swim.
SOME CLOUDS CAN INCREASE UV STRENGTH
You have always been told to use sunscreen or cover yourself on cloudy days because radiation can pass through clouds. But this is not the only reason. Some clouds not only let UVB and UVA pass through but also intensify surface UV radiation.
Most clouds reflect off UV radiation, decreasing its damaging effects to a certain degree. The bad news is that the edges of clouds can also reflect sun rays on the wrong direction, to the surface. Moreover, clouds can also reflect back down the UV radiation reflecting up from the surface. These phenomena can occur when the sky is not completely covered with clouds. They happen quite often and can seriously intensify the damaging effects of UV radiation on your skin.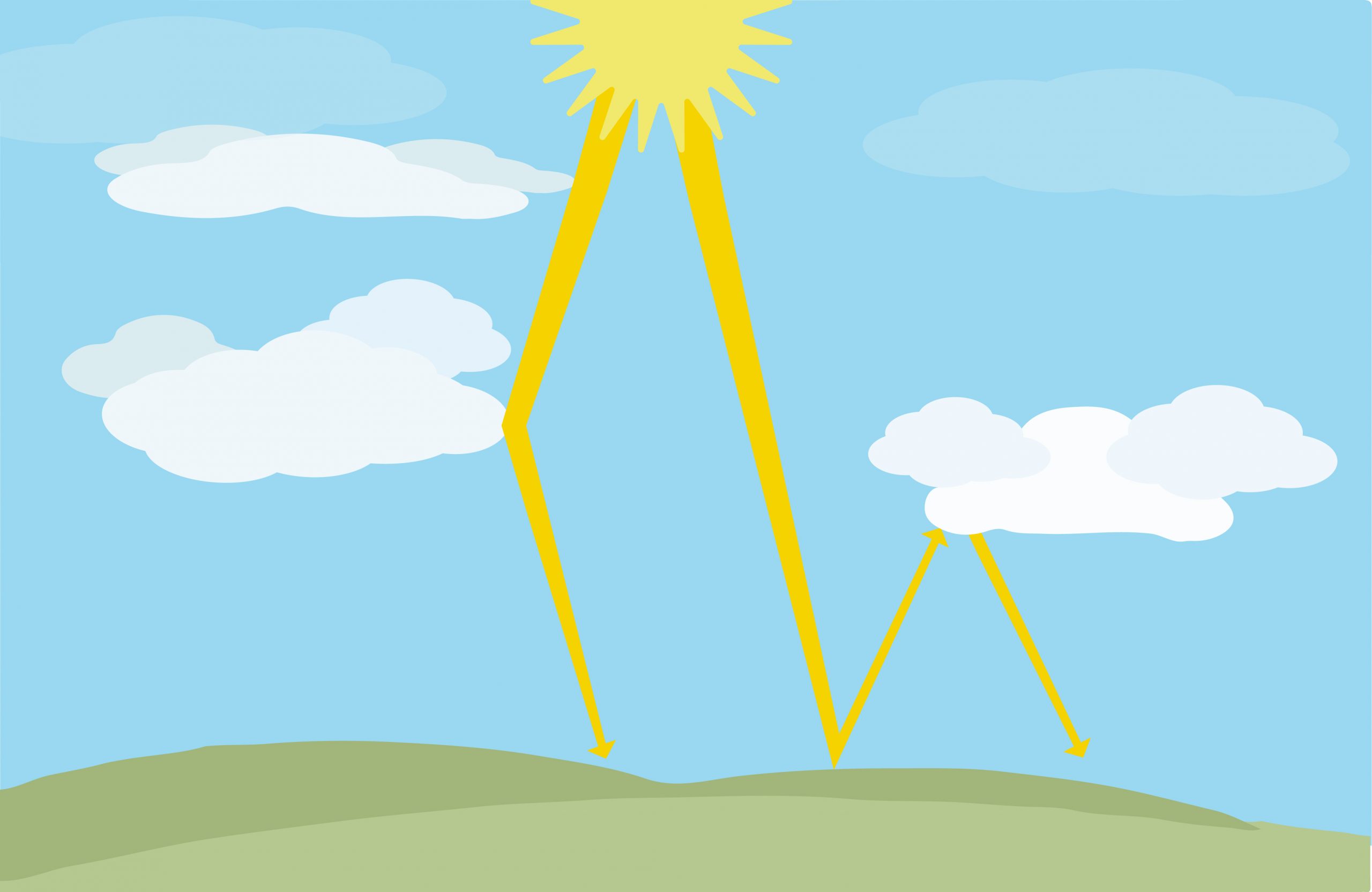 SUN EXPOSURE MAKES YOUR SCARS MORE VISIBLE
Sun exposure can undermine the recovery process of damaged skin and worsen a new scar.
New or unmatured scars are all those that show a pink color.
They can become pigmented if exposed to the sun and turn red. To prevent this, you should be extra careful during the first months until the scar gets the same color as the surrounding skin, which means that the scar is mature. The best way to protect your scar is to cover it when exposed to the sun or to apply a strong sunscreen and reapply every 30 minutes.
DARK SKIN TONES SHOULD ALSO USE HIGH SPF IN SUMMER
Dark skin tones may not burn as easily as fair ones, but they are more likely to suffer from dark spots and melasma.
It is because they have more melanin. Although melanin helps to protect you from a common sunburn, its overproduction leads to pigmentation issues. As dark skin tones can produce more melanin, they have a higher risk of developing hyperpigmentation and uneven skin tone. 
MOST PEOPLE DO NOT USE SUNSCREEN PROPERLY
According to evidence, most people do not apply enough sunscreen. Indeed, it seems that so much emphasis on the importance of choosing the right SPF has overshadowed a little the amount of sunscreen you should use for it to be effective.
The experts say that one ounce/30ml or the equivalent of 2 tablespoons for the whole body. You should apply it at least 15 minutes before being exposed until you notice an even sheen on the skin and let it penetrate.
Some sunscreens are remarkably light and invisible, which makes them easy to wear.