Enjoying sunlight and open spaces is more than healthy for your body and brain. It promotes the production of Vitamin D (which improves bone and heart health) and Serotonin hormone (the one that keeps us happy), among other benefits.
Nevertheless, sun exposure also triggers the formation of dark patches, melasma, and can cause solar erythema or melanoma in the worst cases.
Moreover, in terms of skin aging, sun exposure is the first reason for premature skin aging around the globe. It dramatically accelerates the loss of elasticity and firmness, and the formation of fine lines and wrinkles.
Therefore, the most important skincare laboratories keep improving the formulas and compositions of sunscreens.
INNOAESTHETICS Laboratory is renowned for its commitment to research and innovation. We like to keep improving our formulas and finding new active ingredients that offer better and faster results in order to offer the best possible products and results.
We have recently reformulated and improved our sunblocks.  The result is a new generation of broad-spectrum, ultralight and invisible sunscreens SPF 50+.
INNO-DERMA® SUNBLOCK SPF 50+ and INNO-DERMA® SUNBLOCK OILY SKIN 50+ are now lighter, faster-absorbing, and highly water resistant. They perfectly melt in the skin and are completely invisible once absorbed – which means no shines at all.
Their new packaging in orange and white is extremely attractive, compact, and easy-to-carry, so you don't have any excuse for not protecting your skin against UV-rays every single day.
SEPCIFIC APROACH ACCORDING TO YOUR SKIN TYPE
Innoaesthetics sunblocks are primarily designed to thoroughly protect your skin from all types of UV rays – UVB and UVA.
In addition to that, these invisible sunscreens include active ingredients that can correct potential UV-induced skin damage and improve skin health. For that, and to offer a more specific approach, INNOAESTHETICS offers two different sunblocks according to the skin type:
INNO-DERMA® SUNBLOCK SPF 50+ for normal or dry skin.
 INNO-DERMA® SUNBLOCK OILY SKIN SPF 50+ for oily skin.
NEW ACTIVE INGREDIENTS
Besides having improved its texture, the INNOAESTHETICS R&D department has decided to add a couple of interesting new ingredients that transform these sunscreens into summer essentials and important anti-aging weapons:
INNO-DERMA® SUNBLOCK SPF 50+ now includes DIMETHYLMETHOXY CHROMANOL
This active ingredient is a super potent antioxidant that prevents the formation of free radicals (which breakdown collagen and damage the skin tissues) by controlling the overproduction of Reactive Oxygen Species, Reactive Nitrogen Species, and Reactive Carbonyl Species. All this effectively prevents UV-induced damage and slow down skin aging.
Acts as a shield from UV radiation and pollution.

Boosts Detoxification Pathways.

Protects from Photo-Oxidative Damage.

Inhibits Protein Carbonylation (Oxidation of proteins).

Preserves skin elasticity.

Prevents skin photoaging and skin aging.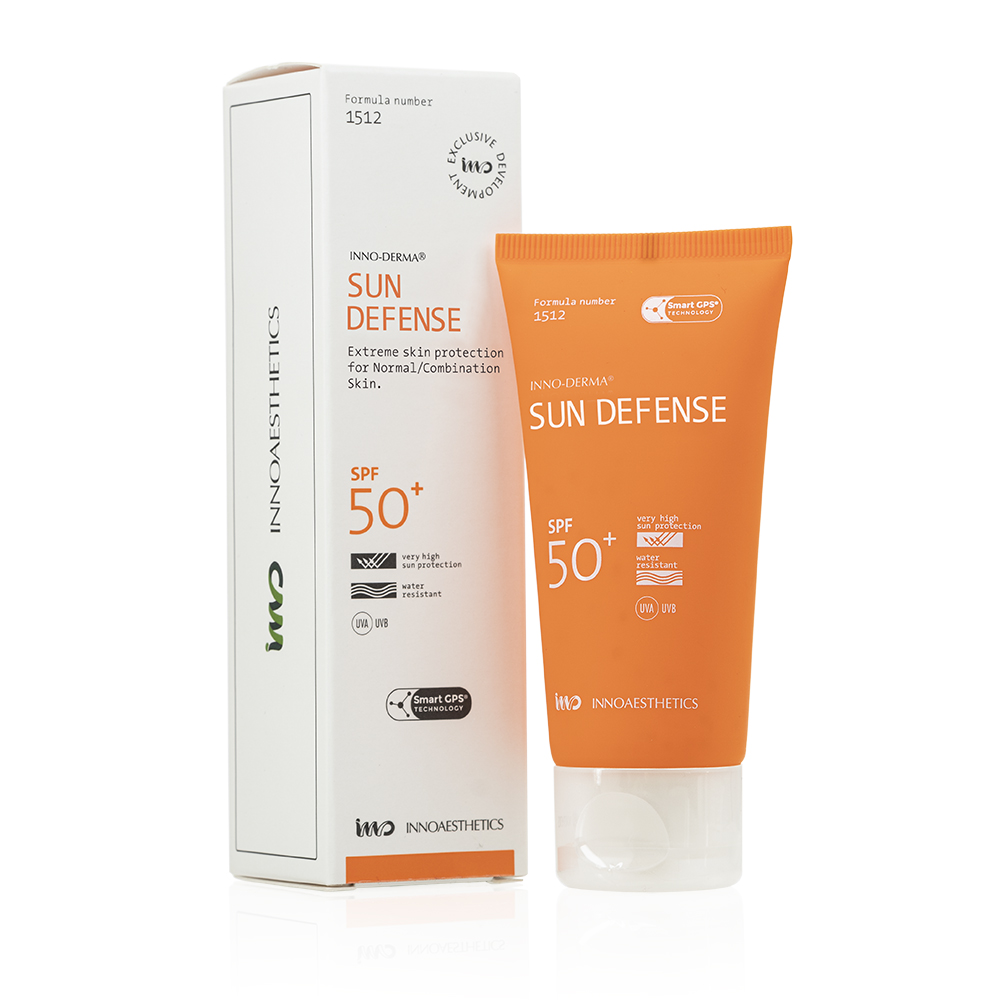 INNO-DERMA® SUNBLOCK OILY SKIN SPF 50+ now includes PSEUDOALTEROMONAS FERMENT EXTRACT
This ingredient is found in marine bacteria and obtained through biotechnology. It is the perfect ingredient to add to a specific sunblock for oily skin as it reduces sebum production while also protecting the skin from the damaging effects of UV-induced free radicals.
Protects from sun damage.

Keeps oily skin under control.

Prevents inflammation and solar erythema.

Decreases the number of open pores.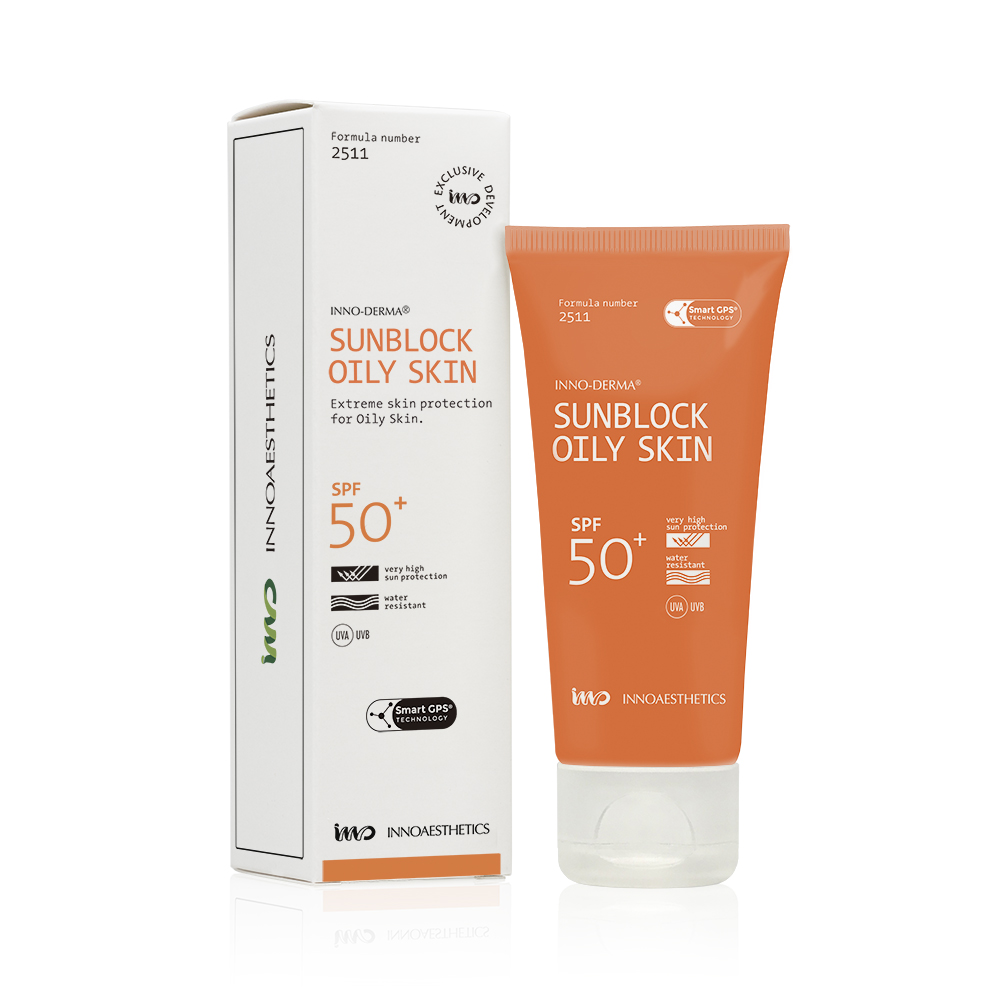 Before forgetting your sunscreen at home remember that sun exposure…
Accelerates skin aging to a 90% through a process called Skin Photoaging or extrinsic aging process.
Highly promotes the formation of Free Radicals, which attack skin cells and tissues, gradually degrading skin health and promoting the appearance of fine lines and wrinkles. This process is called Oxidative Stress.
You can learn more about this in our older entry: What is Oxidative Stress and How to Fight it
Significantly stimulates melanocyte activity which promotes the formation of dark patches, age spots, and all types of pigmentation problems.