Over the last few years, face serums have been gaining so much popularity that nowadays they are one of the most-loved skincare products in the market; and their position at the top seems to be as steady as a rock.
Serums are so well-liked that many people are thinking of replacing their moisturizer with a serum. Keep in mind that serums and moisturizers are products that complement each other. They work at different skin depths and are designed for different purposes, so one should not substitute the other. That is why we recommend you including both in your daily skincare routine.
MAIN DIFFERENCES BETWEEN SERUMS AND MOISTURIZERS 
Face serums are designed to target specific signs of aging and skin concerns. They are formulated to penetrate deeply into the skin to combat free radicals and repair the skin at a cellular level. 
Serums penetrate deeper and faster into the skin than moisturizers because they are made of smaller particles. Nevertheless, they contain a higher concentration of active ingredients, such as antioxidants, nutrients, and vitamins that reduce fine lines and wrinkles and improve skin firmness.
They leave your skin smooth, supple, more luminous, and radiant with no greasy sensation at all.
On the other hand, moisturizers are primarily designed to hydrate the skin, even if there are many different types that can adapt to different skin conditions.
They contain skin hydrating emollients and sealing ingredients (that serums do not include) which help to prevent Transepidermal Water Loss (TEWL). They form a physical barrier on the skin that prevents excessive moisture evaporation and helps your skin to stay hydrated. Moreover, they protect the skin from environmental damage and makeup particles. Moisturizers have larger molecules than serums, so they don't reach the deeper layers of the skin.
HOW TO APPLY THEM
Like cleaning the skin, applying moisturizer morning and evening is essential. In the morning, it is better to choose a moisturizer with sun protection or, if you prefer, apply sunscreen right after your cream.
Serums can be used both morning and night to address specific skin issues more effectively than a moisturizer alone. The use of the serum will also boost the hydrating effects of your moisturizer.
Serums should always be applied before your moisturizer. Using moisturizer over your serum will lock in the serum nutrients and anti-aging ingredients.
HOW TO CHOOSE THE RIGHT SERUM
There are several serums on the market today. Some of them are very specific, specially designed for different skin types and to meet specific needs, such as:
Prevent oxidative stress.
Enhance skin hydration.
Slow down or reverse skin aging.
Improve skin elasticity and firmness.
Even the skin tone.
Fade dark patches or hyperpigmentation.
Control oily skin.
Solve a lack of vitamins or nutrients.
Choosing the best serum for you, according to your skin needs, skin type, and the outcome you want to achieve, is not an easy task.
To help you, we explain below what you can expect from the serums in our EPIGEN line.
INNOAESTHETICS PREMIUM LINE, INNO-EPIGEN, INCLUDES FOUR FACE SERUMS TO RESPOND TO THE PARTICULAR NEEDS OF EACH PERSON 
INNO-EPIGEN® is INNOAESTHETICS premium line for end-users. All the products in the line are made of epigenetic active ingredients. They act on the biological mechanisms of the skin to minimize the expression of those genes responsible for skin aging. Moreover, they include SMART GPS® technology. SMART GPS® is a drug delivery technology, developed and registered by INNOAESTHETICS Laboratory, that helps the ingredients to penetrate the skin, and then conveys and delivers them in the target area – into the specific group of cells where their action is needed.
ANTIAGING SERUMS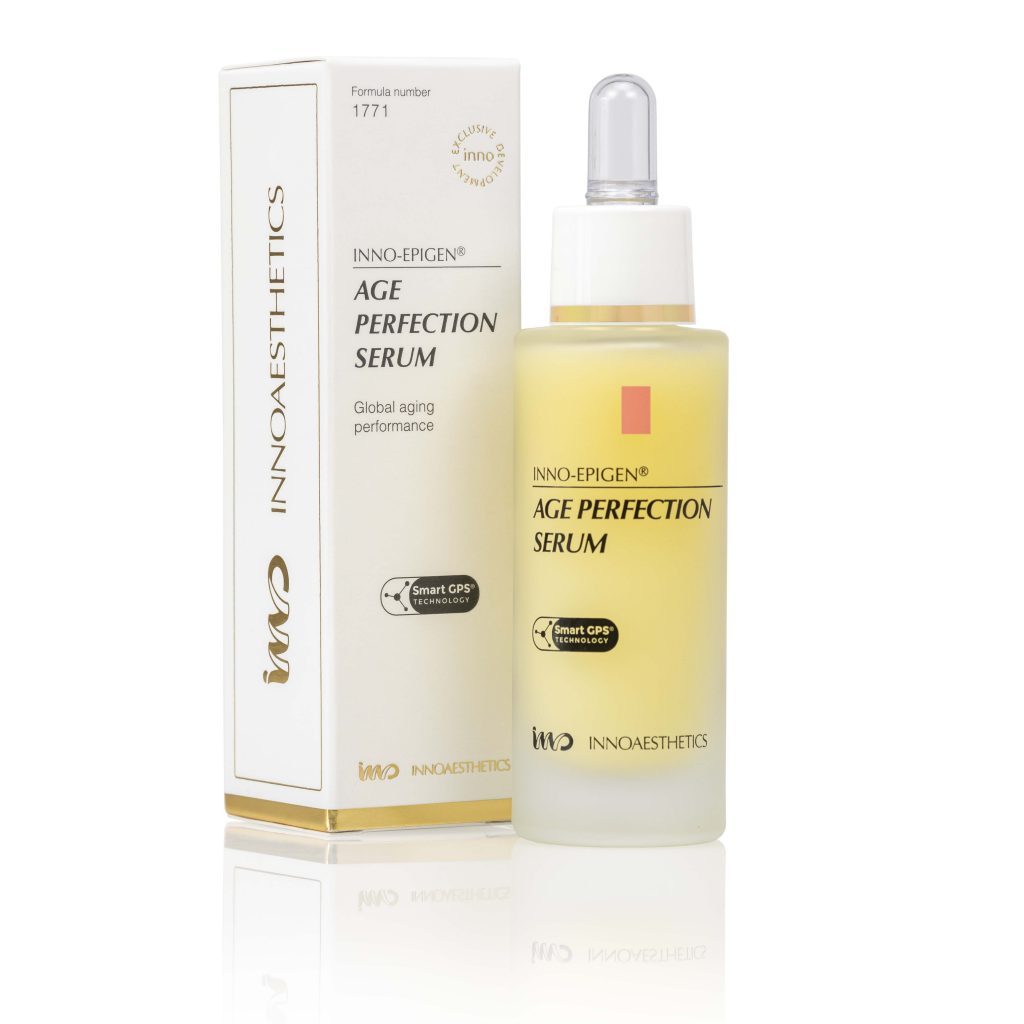 INNO-EPIGEN® Age Perfection Serum 
Concentrated serum that promotes the synthesis of collagen and Hyaluronic Acid. It combines a complex of epigenetic active ingredients, Retinol, Bakuchiol, Tremella Fuciformis Extract, and Peptides.
It visibly attenuates fine lines and wrinkles, also improving skin texture and enhancing luminosity. Its effects are noticeable within days.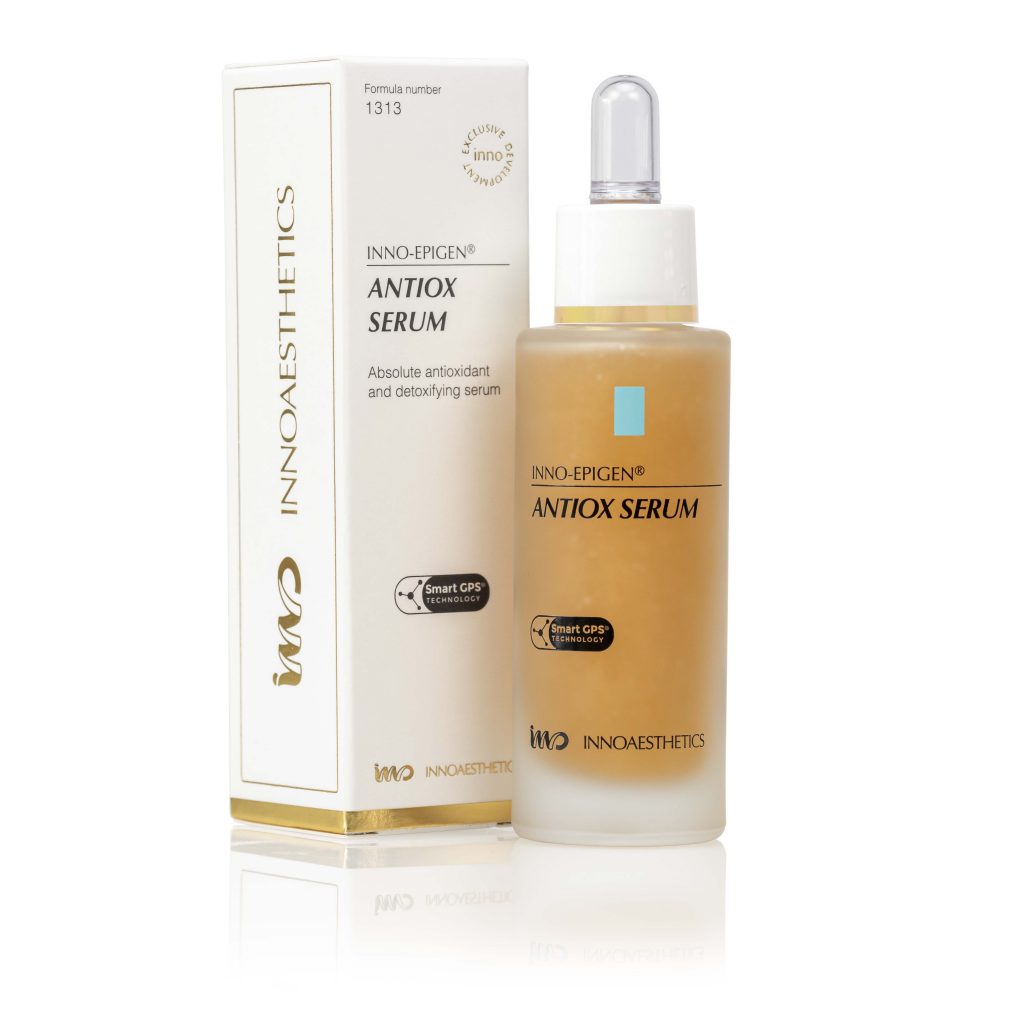 Antioxidant serum that effectively protects your skin from external stressors, free radicals, and pollution. Protecting your skin from oxidative stress is the best way to slow down the signs of aging.
This amazing serum is made of antioxidant and epigenetic ingredients, such as Dimethylmethoxy Chromanol and Diaminopropionoyl Tripeptide-33, among others, combined with the antiaging benefits of Tremella Fuciformis and Edelweiss Extracts.
It not only protects but also balances and renews the skin from the inside. After applying it, your skin feels soft and silky. 
SKIN BRIGHTENING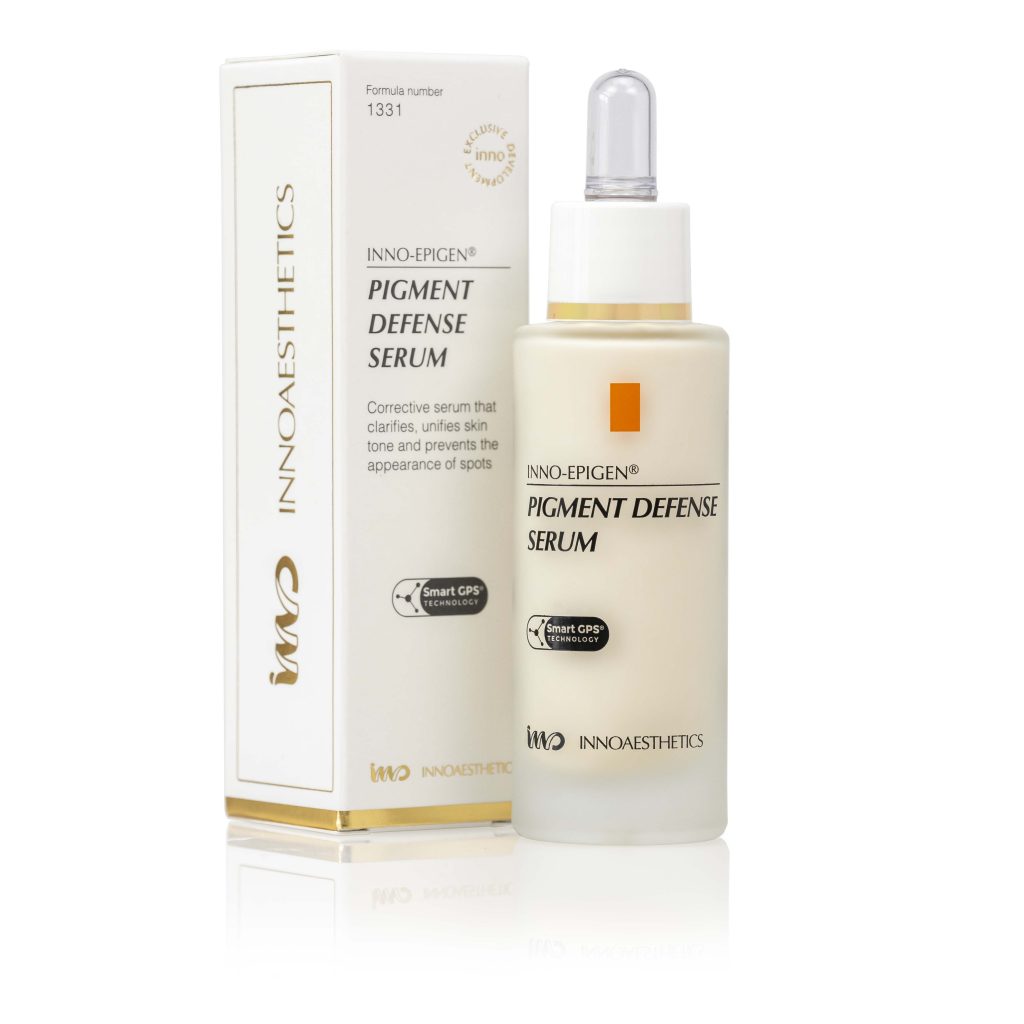 INNO-EPIGEN® PIGMENT DEFENSE SERUM
Powerful serum that combines a number of skin lightening ingredients with some other key components that favor the formation of collagen and other skin proteins. Therefore, it not only evens the skin tone but also improves its texture, being the perfect ally to fight photoaging. 
Among its active ingredients, we find Niacinamide, 3-O-Ethyl Ascorbic Acid, Azeloglicina, and Retinol.
It achieves a progressive lightening effect, fades dark patches and helps to attenuate fine lines. 
OILY AND ACNE-PRONE SKIN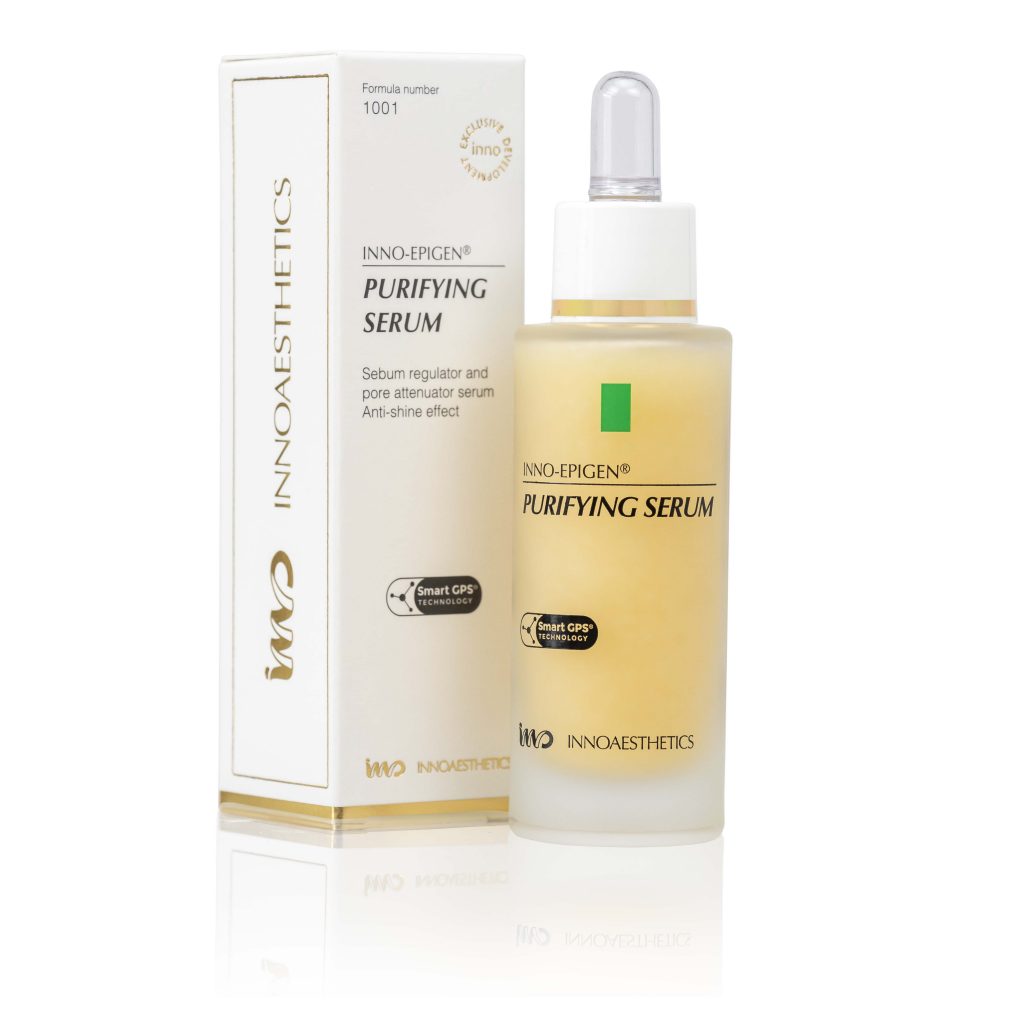 Blend of sebum-regulating active ingredients that effectively control sebum secretion and prevents acne breakouts. It visibly mattifies the skin and closes open pores.
Its key ingredients are an Epigenetic sebum-regulator complex, Micrococcus Lysate, Potassium Azeloyl Diglycinate, and Retinol, among others.
The skin looks healthier, soft, and shine-free.