In our last post, Sun & Skin, we learnt about the pros and cons of sun exposure. Among the pros we mentioned that limited sun exposure promotes the natural formation of melanin which gives colour to our skin and protects us from UV radiation. In this post we are going to learn the different skin phototypes so you can determine yours.
The phototype depends on the amount of melanin pigment that the skin has, which is determined by the constitutional colour and tanning capacity.
Fitzpatric Scale and Skin Phototypes
In 1975 Mr Thomas B. Fitzpatrick developed a scale to classify the skin into 6 phototypes according to the amount of melanin in the skin. Thanks to this scale we know how sensitive a person is to solar exposure: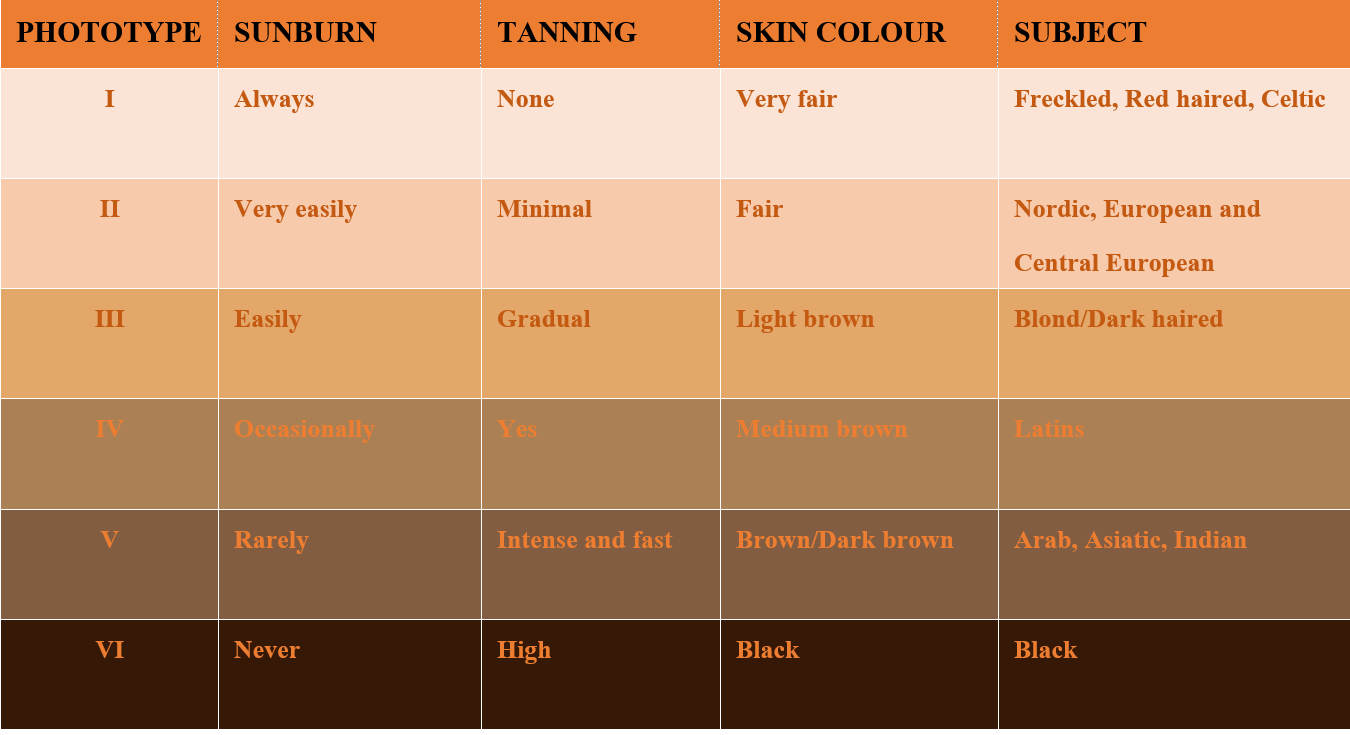 For all phototypes, sun exposure is the primary photodamage resulting in loss of skin structure and elasticity, formation of facial lines and wrinkles, and an increase in dark spots and uneven skin tone. Excessive sun exposure can lead to the formation of melanoma.
Phototypes I and II are not able to produce much Melanin so they should avoid sun exposure as much as possible and use a high SPF sunblock when they are exposed to solar radiation. Freckles may appear after sun exposure and are more susceptible to premature photoaging and sunburn.
Phototypes III and IV can produce more melanin, they can develop freckles after sun exposure but not many (phototype IV almost none). The photoaging process for these types includes wrinkles, lines (less tendency than lighter tones), lentigines and melasma. So, these phototypes can enjoy the sun but do not abuse and always use appropriate protection!
Phototypes V and VI not only have more melanin but also have thicker and tighter dermis than white skin, higher levels of casual lipids and maintain more moisture in the epidermis, as a result they develop fewer facial lines and wrinkles. Nevertheless, they are prone to develop lentigines or melasma during the photoaging process. These phototypes shed their outer layer at higher rate so if you are dark skinned it is good to exfoliate your skin often.
Choosing the Right Sunblock
Now, considering the dangers of sun exposure and photoaging, choose your sunscreen in accordance with your skin phototype and the radiation intensity, or use always 50+ as it is the strongest protection.

Nowadays many products include SPF protection, so we can choose from daily care creams with SPF as Epigen 180 Urban-Day Cream to a prime make-up base with high protection as Coverage UVP 50+.
BB creams with SPF are also a very good option, we recommend to use the ones from the brand Me Line as they are specific for people who are treating their hyperpigmentations.
Remember to bring always your sunblock to the beach and apply it at least every two hours.
There is no better anti-ageing than a proper sun protection.
We wish you a happy and healthy summer!